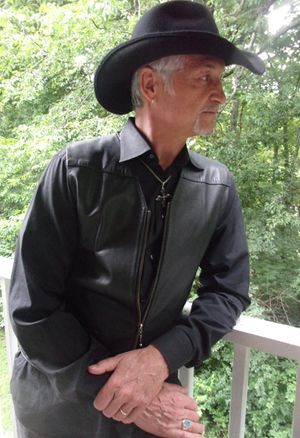 I was born in Paris on May 26 .  My mother Nicole was a classical pianist and I heard music since I was conceived. I grew up  in a household where classical music was favored, but at age 14 after my 3 years of classical piano studies at home and at the conservatory, I discovered Rock & Roll.... and it was all over. 
In fact, the afternoon I saw WOODSTOCK, my life, my heart, my concept of musical freedom changed. Like many European kids I preferred songs in English.  I was listening to  Jimi Hendrix, Elton John, David Bowie, Pink Floyd, The Beatles, The Rolling Stones, Led Zeppelin and on and on, mainly English bands ... Needless to say I dropped the piano for the guitar. It was not only an anti-parental reaction but the tone and the feel of the electric guitar was burning in my hands and in my heart. 
I first came to the US in 1979 under the reign of Van Halen, Billy Idol, Prince, The Cars, Brian Adams, The Police, Pretenders and the likes. From 1982 to 1985 I lived near Sunset Blvd, the Guitar Center, Image Guitars, Max Guitars, Amp Crazy etc... the landmarks of Rock in Los Angeles at the time. 
 I was involved in several bands in the 80's and 90's: The Deaners (1982), Shadow Banister (1984),  Solo project  ( Zave - 1985) then in 1990 I developed a Demo studio in North Hollywood called Eurosound with British partner/Bass player Laurence Shipstone , the name was really appropriate. We helped many songwriters in many different styles of music for 3 years, ranging from  Rock, Pop, Jazz, Spanish pop, Hard Rock, Acoustic, R&B and more... to the point that two of our Artists almost got signed by a major.
Then I met singer/songwriter Steve Deluca and together we created two bands: Just Like That (1993) which became HeadSandwich (1995), a couple years we were offered a record deal with and indie label Damage Records out of Stuttgart (Germany), but ... life took us in another direction (kids and family).  
After a long lapse outside the music Industry in LA, I started composing and producing tracks for BMG & DL Music in Los Angeles. In 2017 I moved to Nashville to explore new grounds and connect with great talents.
My favorite styles are Rock, Blues & Country (New and Traditional)  
As of today, I have written and produced more than 50 songs. I am always writing, I have  more than 100 ideas to be developed. Writing comes very easily to me. It's like a faucet, I turn it on and it flows.
... more to come... Later